"The who and the what?"
Recommended Renaming of Title
This article's title has either been misspelled, incomplete, unsure or temporary.
"What's happening here?"
Blank page.
This article lacks content!
Please help by filling it with accurate information.
"

Sam

, I have to stay clean!"
Requires Clean-up.
This article needs necessary corrections.
Please improve this article if you can!
"Insert Quote Here"
— Insert Character who said Quote and to Whom
Alphie
Character Information
Alphie is one of the Livingstones' neighbor on Zip Zip. He always come with Gracie.
Personality
Physical Appearance
Trivia
He, together with Gracie, came to dogsit Washington, Sam being dogsitted by Gracie. (A Short Term Leash)
Gallery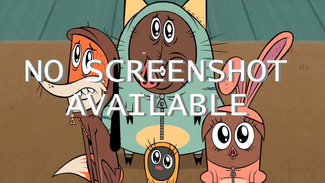 The image gallery for Alphie may be viewed here.
Ad blocker interference detected!
Wikia is a free-to-use site that makes money from advertising. We have a modified experience for viewers using ad blockers

Wikia is not accessible if you've made further modifications. Remove the custom ad blocker rule(s) and the page will load as expected.